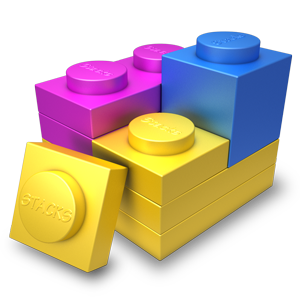 Stacks 3.6
Stacks 3.6.3
823Stacks 3 no longer has Mojave Dark Mode display issues. Note: RW does not yet come with dark mode enabled — these fixes are being made for the time if/when RW does enable dark mode for the whole app. Complete dark-mode with a dark edit-area, dark library, etc. will follow in later releases.
822Improved performance after a paste and drag/drop.
821Content being edited in a text area will again be visible in Preview mode, even if the edit hasn't completed. For more info please see this video: Previewing Text in RapidWeaver 8
Stacks 3.6.2
820Fixes exporting from images that were dragged from the new RapidWeaver 8 resource windows. This will not change existing image stacks. See details for more info.
Stacks 3.6.1
Stacks 3.6.0
Some UI refinements were done to keep things looking nice in recent versions of RapidWeaver that use an updated macOS SDK version.
810Support of URL-Only Image Resources in upcoming versions of RapidWeaver.
811Stacks API: To create add a link parameter with with a dash, instead use camel-case. So +ariaLabel="Button" will add the property aria-label="Button" (See the bug details for more info).
Stacks 3.5
Stacks 3.5.9
807There is now a CDN control in the preferences to enable/disable CDN use for jQuery UI.
Stacks 3.5.8
805API: the relative site assets path does not resolve correctly in Publish mode in rare corner cases. see bug details for lots more info.
Stacks 3.5.7
798API: the relative site assets path does not resolve correctly in Preview mode when a page shares its folder with another page.
803Controls may become unresponsive at certain times.
799API: a control with a missing ID property can cause a crash when it is enabled.
Stacks 3.5.6
785When both a developer stack (.devstack) and a regular stack are installed and have the same ID, the regular stack now always be the one that is loaded.
786API: when the developer provides a missing HTML for a stack -- the missing HTML is no longer hidden in some cases.
Stacks 3.5.5
758When updating a stack, changes will now display in the UI after all updates complete.
762Fix for a crash that occurs while opening files, especially when migrating RW 6 files to RW 7 for the first time.
Stacks 3.5.4
747Further fixes for Mac OS X 10.9
756Fix a rare crash for a click in a window corner when the Stacks Library is in Window mode.
Stacks 3.5.3
749Fixes a crash when using Stacks on sites that also use some versions of SiteMap.
750Malformed stacks without IDs no longer cause a crash when checking for updates.
Stacks 3.5.2
747Stacks no longer cashes when using macOS 10.9. (But if you are running a legacy version, you should probably try to upgrade soon. Stacks 4 will require RW7.1+ which itself requires macOS 10.11+)
Stacks 3.5.1
746Fix a crash that occured when clicking + to add a new stack, on some types of stacks.
Stacks 3.5.0
Usability Improvements
628Stacks version is now placed into a meta tag for users that enable metas and disable comments.
695The stacks version number is now displayed in a visible place. Hopefully visible enough to be caught in most screenshots.
700Uninstalled (missing) stacks now have a special appearance, special content, and a single control to help users reinstall.
Fixes
New Stacks API Features
Stacks API Fixes
Stacks 3.2
Stacks 3.2.7
578jQuery versions up through and including jQuery v3.1.1 are now supported in the Stacks API.
663Font Awesome v4.7 now supported in the Stacks API.
665PlusKit @imports of Stacks pages that rely on jQuery work again.
661Disabling "Advanced" mode on controls now correctly updates their values.
662With the Stacks Library in "Window Mode" you no longer have to bring the window to the front before dragging items from it.
Stacks 3.2.6
Stacks 3.2.5
Stacks 3.2.4
640Fixed crash that could occur when using PlusKit to import one Stacks page into another. Only in RapidWeaver 7.1.
Note: Please don't use PlusKit to @import Stacks pages into other Stacks pages. It's very inefficient and prone to errors. Please use partials instead, they work great, they're much faster, and more flexible.
Stacks 3.2.3
632Fix for intermittent hang while previewing.
Stacks 3.2.2
624Fixed a bug that prevented some partials from being deleted.
629Dragging images from the RapidWeaver media inspector works again in RapidWeaver 7.
630Fixed crash in Mac OS X 10.9 that was introduced in 3.2.1 when closing documents.
Stacks 3.2.1
615Added missing keyboard shortcuts to the preference pane that lists them.
618Added tooltips (with keyboard shortcuts) to many toolbar buttons.
619When RapidWeaver 7+ is Quit with Autosave disabled and text in a stack is still mid-edit (the Done button has not yet been clicked to finish the edit) the edits are now saved before quitting. This makes RapidWeaver 6 and 7 behave the same.
597Add keyboard shortcuts to some toolbar buttons.
620Fixed a crash when opening some files.
611Fixed an intermittent crash on launch.
612Fixed SASS debug info being dumped to the console. This should speed up 3rd party stacks that use SASS like Elixir's Foundry.
613Fix the close box style when using some 3rd party stacks.
Stacks 3.2.0
Sierra Public Beta Improvements

RapidWeaver 7.1 Improvements

API Improvements
---
Stacks 3.1
Stacks 3.1.0
567Added a preference to choose to Edit/Get-Info with Double-Click or Second-Click.
558Edit alt tags and filenames of gif images.
575The close button draws icon centered on non-retina displays.

RapidWeaver 7 Improvements

569Stacks uses the native Info panel modes in RapidWeaver 7.
568An "i" button was added to the selected stack for easily opening the Info panel. Double click works now too!
566Lots of tiny improvements for the Info panel to help it look great in RapidWeaver 7.
565The redundant Info toolbar button was removed from RapidWeaver 7 (but still appears if running RapidWeaver 6).

Stacks API Improvements

251trueValue and falseValue now work for for arrayed controls.
571The most recent Font Awesome and jQuery libraries
5603-wide control arrays of checkboxes, colorwells, text-fields, and number-fields.
518Number controls validate min/max on arrayed number controls.
579Default min/max values of array number controls are no longer arbitrary set to 0/100.

Stacks API Improvements

There are tons more changes and improvements that we omit from the final release notes just to keep them short and sweet. If you'd like to know more about all the nitty gritty details or help us test the Stacks beta just join our Stack channel: http://slack.yourhead.com or follow us on Twitter http://twitter.com/yourheadsupport.
---
Copyright 2016 YourHead Software